Biomend Aesthetics and Wellness
|
5935 South Zang Street, 220,
Littleton,
CO
80127
|
Join Our VIP Membership Program
Our monthly membership program will help you achieve the glowing skin you've always wanted! This membership program works differently than most. Instead of paying a monthly fee, that payment is placed in your virtual wallet until you're ready to use it. For example, if you're looking into a lip filler or wrinkle relaxer treatment, our membership program will allow you to save up for it by banking your payments.

Our VIP members also get exclusive access to pricing and great discounts on our corrective service and products. With the ability to cancel at any time, there's no reason to wait to become a VIP member. You deserve it!
Join Our VIP Membership Program
Biomend's loyalty program is a skincare savings account. There are no fees. Monthly installments are automatically banked and can be used towards any treatment or product. Being enrolled also guarantees the deepest discounts on our services and medical-grade skin care.

At Biomend Aesthetics and Wellness, we believe consistency is key to achieving your aesthetic goals. Our members love that they can slowly budget for treatments in order to get the best and most youthful skincare results possible.

Our savings plan allows you to put money into your most important investment: YOURSELF.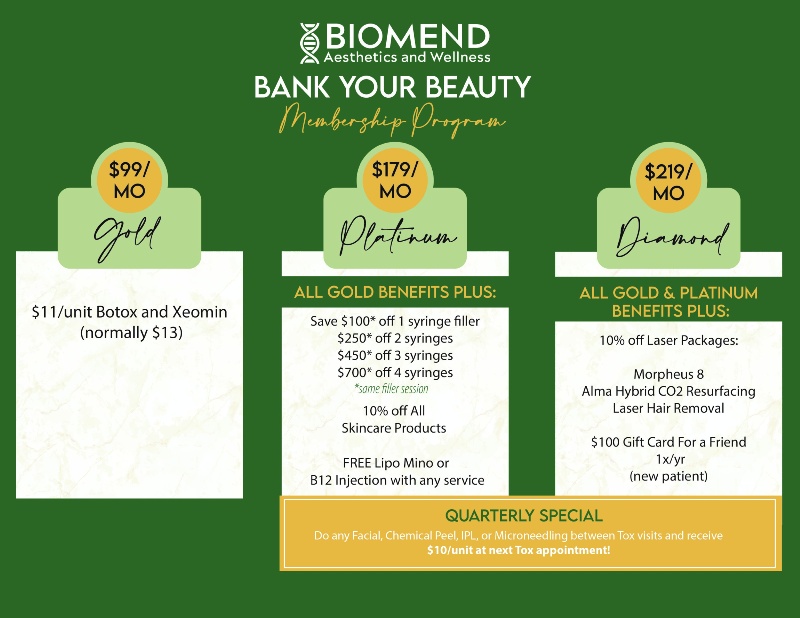 Thank you for contacting Biomend Aesthetics and Wellness. Someone will be in touch with you as soon as possible.
There was an error submitting the form. Please try again.
Copyright ©
2023
Biomend Aesthetics and Wellness, All rights reserved.